A new frontier in home dining and entertaining
Sometimes you want to forget about formality
Laidback meals with friends and family shouldn't be a formal parade of courses served on a table set with starched linens, silverware and crystal glasses. Instead of the traditional tableware and place settings, you want to create a relaxed, cozy atmosphere
that allows you to involve everyone in both the cooking and the eating. This new style of dining is the future of hospitality and we've incorporated the latest technological advances in foodservice to help you achieve just this objective.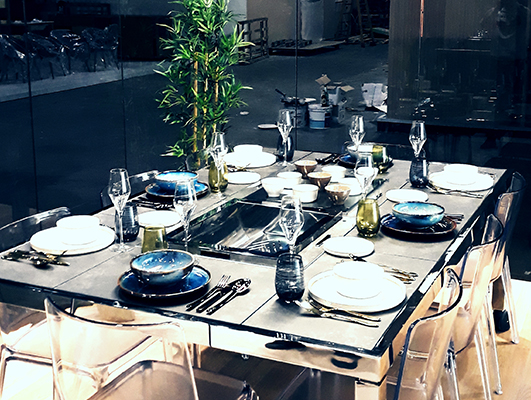 Enjoying the company of your guests 
Our one-of-a-kind Dining Tables maintain food's temperature so that you can sit around for hours, enjoying wine and chating with your guests- without ever worrying about food getting too cold or too hot and soggy.
Your interior style is your signature
Guests to your home often remark on how beautifully it's furnished and decorated. We propose a dining solution that can be entirely customized with the highest quality materials to blend seamlessly with your own interior décor: you choose the colors and finishes that will work with your existing style, adding a unique statement piece of furniture to your dining space and will garner even more compliments! 
SIT DOWN TO A MODERN AND ELEGANT STYLE OF DINING
For more information or for technical specifications, please download the catalog.

Download PDF
(8.38 MB)